We've all heard the generic recommendation for exercise in pregnancy, "Do what you've been doing and listen to your body." Well, at Bodies for Birth, we believe and know we can do better.
People ask us what makes us different…we'll tell you:
It's the intentional program design, the childbirth education woven into every single class. It's the specialized services that have been created based on exactly what the pregnant and postpartum body needs to feel it's best. It's our community of mamas who long to be active participants in their journey throughout motherhood–individuals seeking education, informed decision making and holistic wellness. It's the village of friendship that grows week after week.
Ours is a powerful, loving community of strong mamas! If you're ready to feel energized, strong and to gain fitness in pregnancy (yes, it's possible!!), let's get started!  We welcome you to join us!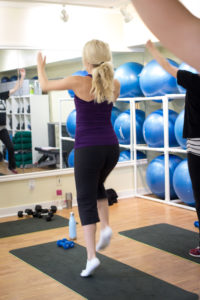 Classes are booked for four consecutive weeks with new sessions beginning monthly.  View the BfB March 2018 Calendar here!
Our program is progressive in nature, meaning that you can join at any time in pregnancy and can continue right up until delivery!  With a new class each week, we build in strength and endurance.  By week four, you will most certainly feel stronger! Our classes are appropriate for all stages and fitness levels. Preconception and postpartum clients are always welcome as well!
What you can expect:
Professional, specialized instruction with modifications for all levels of fitness and the common discomforts of pregnancy and postpartum.
Functional bodyweight exercises and resistance training.
To learn about and practice the fundamentals that will help to maintain comfort in pregnancy including alignment, diaphragmatic breathing and core strength.
Cardio intervals and specialized labor preparation intervals (1) with  guided imagery and visualization to help you stay strong, toned and fit!
To gain not only  physical strength and endurance, but mental resilience as well.
To train your mind and body to recover efficiently from physical exertion and to remain calm despite a body that's working hard physically.  These tools are essential for every individual's labor preparation!
A supportive, fun class environment.
A warm, loving community.
A clean, inviting fitness space that was intentionally designed with your needs and comfort in mind.
Participating throughout pregnancy is strongly recommended as you'll gain the most benefits from continuing to work with your evolving body right up until delivery!  Group training is appropriate for both the beginner and the veteran exerciser.
---
---
The details:
Small group training sessions (4 clients min, 8 clients max) are booked monthly for four consecutive visits (i.e.: four Saturdays).
You are eligible for one drop-in per series to make up for a missed class.

Additional make up options include: A single One-on-One training session at 50% off or a PDF of an at-home workout for your use.

Classes are non-transferrable; this means that you will not be able to "make-up" previous missed classes elsewhere (ie: during another series).
$100 plus tax for four training sessions
---
(1) Adapted from Labor Training ®,  "Get Fit For Birth", Pre & Post Natal Corrective Exercise Specialist Course Curriculum