Personal Training
Some of my favorite time spent with clients is in our one-on-one sessions.  With Personal Training, we really have the opportunity to focus on your specific needs, goals and concerns.  I make it a priority to always weave the best information regarding fitness during pregnancy and postpartum into our time together.  This means that our work is intentional.  It's not just about fitness, it's about preparing your body and  mind for the journey of motherhood.
With a nursing background at the foundation in combination with four pre and postnatal fitness certifications, I bring specialized knowledge to best individualize a program for you at any stage of fitness and motherhood.
Personal Training sessions are appropriate throughout your journey and are recommended should you have any concerns about beginning an exercise program.  If you're not sure where to begin, please give me a call!
We can connect via phone, video chat or in-person for your free 15 minute consultation.  Stopping by the studio is always welcome too!  (206) 734-5902, maura@bodiesforbirth.com
YOUR FIRST SESSION IS 30% OFF!
What you can expect from your first session: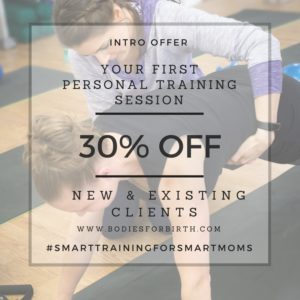 Review of your medical/fitness background
Discussion of your goals for pursing Bodies for Birth Services
Any goals for your preconception/labor/delivery/postpartum recovery as applicable
Education regarding perinatal exercise guidelines
In postpartum, we will assess for diastasis recti and provide a preliminary screen for pelvic floor dysfunction
Referrals to local practitioners and services as desired and applicable
Education and practice regarding alignment, safe prenatal and postpartum core strengthening and diaphragmatic breathing
Thorough notes on the information covered in our session
A plan for moving forward on your prenatal fitness journey
Follow-up with accountability check-ins if desired and as agreed upon mutually
Intro Personal Training Session: $77 plus tax/single 50 minute session (available for New & Current Clients)
$110 plus tax/single 50 minute session
$264 plus tax/package of three 50 minute sessions, 20% OFF!