One of my greatest goals is that you stay comfortable and active throughout pregnancy and right into postpartum.  A second and equally important goal is that you are full of confidence and strength when it comes time for delivery.  Last, but not least, I want you to have an amazing recovery.  Bodies for Birth helps women to achieve all of these goals. 
About Me–Abridged: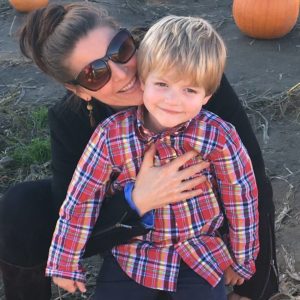 I'm a wife to Shawn, who is my very best friend and mother to son, Will, who has clearly inherited my energy and intensity; so needless to say, life is busy and wonderful!  I'm a Registered Nurse, a Certified Pregnancy Fitness Educator and have a long history working in wellness.  During pregnancy and motherhood, it became clear that I needed to fuse my passions to do something wonderful.  Bodies for Birth was created from this passion.
Ever since, I have been on a mission to change the conversation about exercise during pregnancy.  I like to think I'm creating and leading a birth and fitness revolution!  That said, I have to admit, Bodies for Birth has become so much more than fitness.
I watch women gain physical and mental strength, I watch them tackle the unexpected with resilience and grace.  My work allows me this gift: to bear witness to the evolution of a woman as she experiences pregnancy, childbirth and life as a new mom; and I am forever grateful.
About Me–The Long Version:
My wellness background includes work as a certified personal trainer and chef as well as a health coach and health screener. While practicing as a Registered Nurse at the University of Washington Medical Center, I had the opportunity to work with a medically complex population including antepartum women. My experiences in the hospital setting provided an invaluable foundation of nursing knowledge; however, I always longed to return to the fitness and wellness sphere.
The experiences of pregnancy, childbirth and motherhood brought this mission into focus.  I am certain that my fitness level throughout pregnancy allowed both my son and I to tolerate a particularly challenging labor and delivery.  Since his birth, each day has brought new lessons and the gift of a love that words pale in an effort to describe. Through the growing pains of parenthood, I continue to strengthen my own mind and body.
As a woman and mother, I seek to share my personal experiences with other women, to break down competitive barriers and to celebrate as women surprise themselves with the inner strength they already possess. I am confident that my life experiences have prepared me for this role, in the same way that my body and mind were prepared for childbirth.
"I'm dedicated to helping you and your growing family achieve optimal wellness. I'm confident that through education and practice, you'll develop the tools for a lifestyle of mindfulness and movement that will carry well beyond pregnancy and postpartum." 
---
My Training & Education
Education:
Boston College, Bachelor of Arts: English & Theatre Arts, May 2002
Shoreline Community College, Associates in Applied Arts & Science: Nursing, December 2011
Licensure:
Registered Nurse, Washington State Department of Health, January 2012, License # 60257242
Certifications:
Certified Prenatal & Postpartum Exercise Specialist: American Fitness Professionals & Associates, 2014
Get Fit For Birth Corrective Exercise Specialist, 2015
Childbirth & Postpartum Professional's Association (CAPPA), Pregnancy Fitness Educator, July 2016
"Diastasis Detective: Solving the Mystery of Fixing Abdominal Separation", 2017 (Certification pending)
Prenatal and Postpartum Exercise Design, 2017 (Certification pending)
Health & Wellness Related Professional Experience:
Registered Nurse, University of Washington Medical Center: Rehabilitation Medicine, 2012-2014
Health Screener, ADURO: Corporate Wellness, 2012 – Current
Health Coach, ADURO: Corporate Wellness, 2012 – Current
Certified Personal Trainer, F-Max Fitness, 2003-2004
Personal Chef, Self-employed: Private clients, 2003-2004
In the News & Community:
Media Coverage:
"New Day" on King5, KONG, Seattle, August 2015: "Get Fit: Prenatal workout for moms-to-be"
Seattle Magazine, October 2015: "No Time Like the Pregnant"
Seattle Times, July 2016: "Working out has huge benefits for pregnant women and their babies."
Publications:
DoulaSpot; "Benefits of Exercising During Pregnancy"
Collective Alchemy & The Calm Edge; "Ten Essentials for Entrepreneurial Success"
Care.com, "Four Pregnancy Exercises you can do at Home"
Huffington Post, Contributor
Science & Sensibility, "A Research Review–Exercise in Pregnancy: An Association with Placental Weight?"
Public Speaking Events:
Parent Trust for Washington Children: Great Starts Birth Classes; "Core & Pelvic Floor: It's all Related"
Babies 'R US: Parent Education Series; "New Baby, New Mommy: Diapering, Bathing, Bonding & Self Care"
2nd Time Moms: "Postpartum Return to Exercise & Common Concerns in the Early Days"
Health & Wellness Related Volunteer Experience:
Parent Trust for Washington Children: Penny Simkin Childbirth Preparation Classes:  Birth Assistant, 2015
WIC: Women, Infants & Children, 2009
Community Education for Breast Cancer Awareness & Prevention, 2011
University of Washington Medical Center, Cardiac Catheterization Lab, 2009-2010
University of Washington Medical Center, 4NE: Medical & Surgical—Neurology & Otolaryngology, 2009-2010
Continuing Education & Certification:
Mutu System Total Body Confidence Program, January 2015
"Care of the Pregnant Patient", Herman & Wallace Pelvic Rehabilitation Institute, March 2015
The Integrative Women's Health Institute, Beta Tester for Preconception Detoxification and Nourishment Program, Fall 2016
"Diastasis Detective: Solving the Mystery of Fixing Abdominal Separation", March 2017 (Certification pending)
"Moms Gone Strong" Pre & Postnatal Education, April 2017
Professional & Academic Honors:
Professional: Bodies for Birth
2015 Seattle Award in the Physical Fitness Program category by the Seattle Award Program
2016 Seattle Award in the Physical Fitness Program category by the Seattle Award Program
2016 Seattle Award in the Trainers category by the Seattle Award Program
Academic:
Vice President/Dean's List 2006, 2007, 2009, 2010
President's List 2008
Member of Phi Theta Kappa Honor Society 2006-2011
---
As featured: